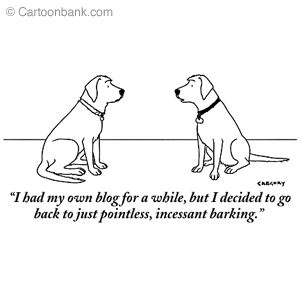 Now that I have a little bit of time, since cutting out blogging daily, I figured I'd go through my feeds and see what I could cut down on. Spring clean some of the mental clutter in my life. There are a lot of blogs out there that I start reading, add to my blog reader (I now use Google Reader), and stick with for a while. But every so often, I go through my list, weeding out various blogs that aren't making the grade for one reason or another. So here are some of the reasons why I'd delete you from my feeds or you wouldn't make the cut to begin with:
1. You don't blog regularly. If you haven't updated in a long while or so, I'll likely drop you. I want current! I just deleted some blogs that hadn't been updated since a year ago, etc.

2. You don't answer comments. I've been making every effort to answer every comment left on my blog -- I can't answer each and every one, but I would say I respond to a good 80% of them. It's a point of etiquette with me, as well as a way for me to thank my readers for taking the time to comment. I appreciate you, and I want to let you know. Plus, I think blogging is about engaging others in conversation. If you don't want to interact with those who read your blog, why are you writing at all? Just pull out a little diary with a lock on it and share your thoughts there. Also, as long as you have contact information, then I will respond. I still get comments that have no contact information, and those unfortunately I read & then delete them from my inbox. Often, profiles will lead no where with no info.

3. You don't use images or photos. It's really hard to read big blocks of text. If you never use images or pictures, my eyes glaze over. I just can't do it. Though, if you post here & there with images but sometimes without, that's fine. But there are some bloggers out there that only use text. BORING!

4. You use too many photos of the same thing. I can't stand blogs that have the exact same photo of their cat, dog or goldfish sitting in the exact same position, but then moved an inch and you photographed it again, and then posted all the angles. This makes me not want to read your blog. You don't need 28 pictures of the same pet/kid/craft. Post a few, and post a link to all the rest. Who cares if you think they're all fabulous. If I want to see 85 pictures of your cat Fred, I'll click on the link.

5. You don't use the shift key. I'm sorry, but it is impossible for me to read blog posts with no capital letters. I know people who blog like this, but it just doesn't work for me.

6. You blog useless/meaningless information. Your blog posts are filled with "I had a chicken pot pie for dinner with a side dish of this and a salad topped with that". "I went to the bathroom, and washed my hands." "I went to Walmart to buy toilet paper and cream cheese". NO ONE CARES! And No One Cares What You Had For Lunch. I want interesting stories please.

7. Crazy punctuation, use of "hooked on phonics" for words, over-use of quotes, lots of exclamation and question marks. Why do people have to put exclamation marks all the time!!!!!! It drives me nuts!!!! And people who write words like "no" for "know", etc. Poor conjugation as well drives me nuts. Words that are supposed to be 's but are marked as pluralized with an "s". And the lack of spell check... I guess it's the enriched English student in me, but I can't stand blogs where the author cannot take the time to spell check their blog post before publishing. Blogger, Windows Live Writer, etc all have a Spell Check feature. It's a simple click of a button. DO IT. Your friends will thank you. I know I've had spelling errors in my blog posts before, no one is perfect, and when I catch them, I go back and edit, but some people don't even proof read what they are typing.

What about you? What makes you unsubscribe, not even subscribe in the first place or stop reading a blog?