Today, I met with my wedding photographer and went over the 75 images (from the 1300 proofs she gave me back last December), and was there a LOT longer than I wanted to be there. First off, she likes to talk, and her 17 month old son was there as well, as he had not gone into daycare yet, so she was also busy a little bit taking care of him.. Ugh, it was a long morning. But that's alright, perhaps I will get my final album (the album I have just has my proofs in it) before my son is born, but I highly doubt it - because she could not promise it before Christmas. (But that's alright. I've postponned getting it done, because of school, so I guess I can wait a little longer for it, right?)

I went for lunch with my hubby since I was in his area, and he seemed really stressed. I am glad that when he got home tonight, he chilled out, and we chilled out and hung out together. This afternoon I took care of chores (even though I really just wanted to nap), and organized my new filing cabinet, with all my files (phone bills, statements I need to keep, electricity bills, etc….)And now I don't have to worry about all these files over taking my desk.

I've been finding Zeus in really funny sitting positions lately. Positions that cats should NOT be in. They are sooo funny, that I have to be documenting it…!


This above picture is from late last night. Zeus decided to sit next to the magazines I was flipping through on my bed (looking for a haircut I may be interested in).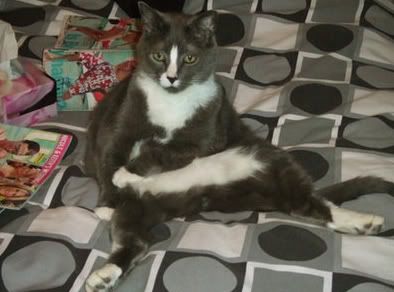 Then, today, he was sitting on my un-made bed. I don't understand how he finds these positions comfortable, but that's his decision, right?

Today, I found three images of hair styles that I am interested in cutting my hair like. I finally have a hair cut and blow dry (but at 8:30 am on Saturday morning! My sister's friend who is a hair stylist - who did my hair for my wedding (And did my makeup too! And did a FANTASTIC FANTASTIC job)). She is soooo busy and overbooked that she had to fit me in at 8:30, which is before the salon even opens. I will make sure that I am there early - because she will be pressed for time, and I do NOT want her to goof on my hair!I am soooooooooooooooooo fed up with hair maintenance, (I think it's a pregnancy thing), and I'm soooooooooo ready to cut it off! Right now it's just a little past shoulder length, and I have just been wearing it in a bun or in a clip, and don't care to straighten it or do anything with it - because it's just simply in my way……. (And I am usually low maintenance, anyhow!). Short hair, is low maintenance! So, as of Saturday, I'll look kind of like one of those hairstyles above. I just love the middle one the most! What do you think? Which one do you think I should shape it like? Let me know what you think!!

Alright, Jamie and I are about to watch RV - the new Robin Williams movie. I am sure that it's garbage, but…. sometimes you just need light entertainment, and a few silly stupid laughs. I'll let you know tomorrow, how it is!