Yesterday I bought some Runts as I was kinda craving them, and after eating them, I decided that the tin it came in - is perfect for storing my row counter, as I would HATE for it to be in my bag and it get knocked around, and a couple of rows get added to the counter, then all of a sudden sock number two and sock number one don't match, because I was off a few rows... So, Willy Wonka's container, became a row counter protector:
Took some beautiful pictures of the flowers in and out of my home today. (We discovered that we have a rose bush (that didn't come out last summer after we moved in, so this year, we have beautiful roses in the front yard, so I snipped a few and brought them inside):


In our backyard, you can find these beauties:
I got my stitch markers from Bren today, in regular mail:



And, Today, upon getting in from my morning class, I came home to a package sitting on my door step, my stitch markers from Adriane: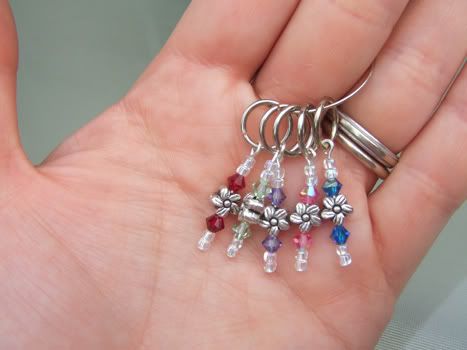 Along with the stitch markers (that are soooo pretty), was this FANTASTIC ball of sock yarn, a birthday present from Adriane - that was SUPER sweet of her. This sock yarn is absolutely gorgeous. I can't wait to make myself a pair of socks with this yarn!
I was sitting outside today, enjoying the good weather, and knitting (of course)
and Jazz decided to come take a peek outside:
Oh - and this afternoon I decided to frog Jamie's sock, and restart. Why??? Because he tried it on, and it was well, WAY TOO BIG. It was WAY larger than any of his socks that he already owns. I even SWATCHED out the yarn on the correct needles and plugged in the right amount of stitches per inch (in the sock generator that I use) and it was still WAY too big. (Really upset about that!) So - the sock has been restarted. I hope I get that crazy awesome pattern that came out of the yarn that I had started yesterday.
Today, I found a new show. It's on the DIY network (Do It Yourself) and we get it on Direct TV Satellite (as it's an American Show). It's called Nitty Gritty. It's a little cheesy, but the show looks very fun and I hope to learn some new techniques. It's on weekdays at 11:30 am and at 2pm (Two different episodes) and I'll try to catch as many as I can. Some have aired already, and won't be re-airing (that I know of). I've been surfing the DIY website to see airtimes, etc. Today's episode was on belt making. (Not that I'd ever knit myself a suede belt - but the technique was interesting!)