My sister in her new apartment (moved out of my parents house on Saturday) got 2 new kittens. Hasn't even unpacked a single box yet, but brought home 2 cats. This is CC:
And this is Oreo:
Not too sure what CC is for, but Oreo is as in the Oreo cookie.
They are adorable, I can't wait to meet them!
My secret pal has been receiving my mail. I am not sure if she received it all on the same day, or if she just waited for a few to photograph together, but she finally received some mail from me! Woohoo!


I have sent her crafty ideas (she collects craft ideas - so I mailed her inserts that I thought were inspiring, etc) and some knitting notecards, and vintage knitting needle holders and vintage circular needles, and some homemade and not homemade stitch markers. Can NEVER have too many stitch markers! Right?
I am glad that she has liked the smaller stuff I've sent - she will be getting a larger package soon! I've finally received a parcel in the mail from an order I did with Little Knits and well, I was confused to see this on the package it came in: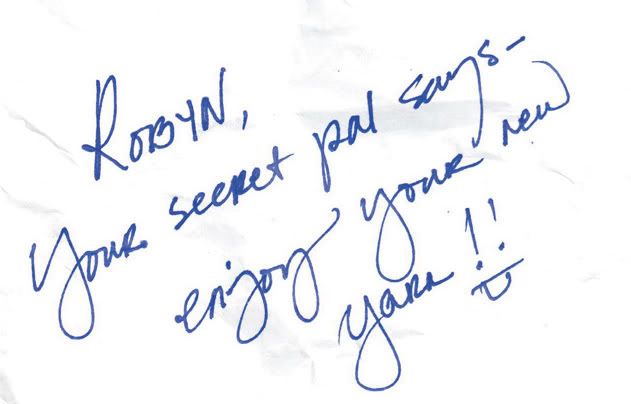 When I first saw the parcel, I thought it was from my secret pal sending me a HUGE parcel of yarn. But, it was the sock yarn and the other yarn I had purchased, with a note from my secret pal? I'm still a little confused, and I'm waiting to hear back from my pal to see if she indeed did contact the company I bought the yarn from and ask them to send me a little note with my yarn. If so - wow - I'm impressed - I would have NEVER of thought to do something like that! I am very impressed. Never thought I'd get a little note with my purchase! Cute!
This evening I took a small nap after coming home from class (class which was long and boring and I did start on a new project though, but I'm finding class time to be a waste of time, seriously). And after my nap, I went with my father's friend Clifford to pick up my 13 piece patio set from Zellers. I had a raincheck from them for a sale they had (499.97 to 299.97) and it finally came in! My dad would have come with me, but a friend had an accident with my father's car on Victoria Day weekend and my dad still has not gotten his truck back from Lincoln yet. So, my dad's friend offered his wife's van - and his services to pick up the patio set with me. YEY! I finally have a patio set. Now I just need to put it together! It's in 3 boxes, which BARELY fit into a Dodge Caravan.
I watched Last Comic Standing with Jamie tonight, and finished turning the heel on my 2nd blue sock. I am really happy with the progress, and I am also VERY happy that I turned the heel (the short row way) without A SINGLE problem! Woohoo! Very happy about that.
Alright, I'm off to bed. I have my first OBGYN appointment tomorrow. Tomorrow - after my appointment, I have lunch with a friend, and an appointment at CAA to go over options for my honeymoon for September, and then I have around 6-7pm the Montreal Knits meetup at 2nd Cup. And I'm soooo happy that I've turned the heel - this way I can knit knit knit and NOT worry about screwing anything up while talking.
I DID manage to kick myself in the ass and clean my bathroom tonight. I have been maintaining it - but it needed a HUGE cleanup. (Cat hair just never seems to go away). I am so happy I finally got around to doing it. What I did NOT do tonight though, is cook. I had promised Jamie I would make my Chicken and Pasta Bake recipe. I have all the ingredients, I just felt WAY too nauseas to cook, and then Clifford called to say that he was on his way to pick me up to go to Zellers and I would NOT have had enough time.
Alright, happy knitting, and I'm off to bed (Sex & the City is on anyhow!)