Today was a little bit better of a day. Even though I was in a little bit of a grumpy mood from yesterday, I am feeling a tad better today. I went to class today, worked on my 1 colour poster, which was due by the end of the period today, and even though I had compatibility issues between softwares (QuarkXpress didn't want to import my Adobe Illustrator Illustrations properly in regards to the colour (even though it was the exact same Pantone shade)), I was right on time with handing in my project.
On my way home from school today, I returned the shoes to Aldo that I had gotten for Jenn's wedding (I felt they were too pointy at the toe - which I usually don't mind, but my feet are starting to swell up - so I'm going to wear the shoes I got the other day, the sandles, I'll take a picture soon of those and blog them!) Since Walmart was next door, I did a return at Walmart. And stupidly decided to go into Payless to see if they had anything bronze for Jenn's wedding (just in case). But instead, I picked up some airwalk flip flops, LOVE THEM, and a new purse: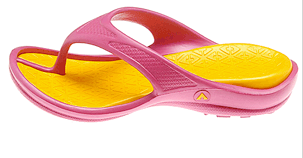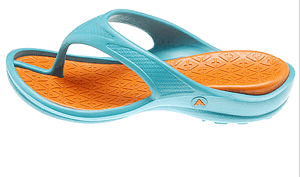 The airwalks were on sale for 13$ a pair! So I bought 2 in the pink/yellow and 1 in the blue/orange. I'm going to start with one pair and put away the rest for when the first pair are finito. So cheap and soooo worth it. The purse I got 10% off on (which was already on sale) because of my CAA (AAA for you americans!) membership. Gotta love owning memberships that give you discounts at other places.
Tonight I went with the women in my family (my mother, sister, grandmother, aunt, cousin Jenn and Jenn's aunt) to see
Women Fully Clothed
. I had a really good time at the show, and it was REALLY funny. Good laughs. There was a lot of menopause jokes, lesbian references (hey, they show was with 5 women), breastfeeding and bringing up children, cooking, anything "women related". The women in the show were awesome, and our seats were awesome too. It's a good thing that Jenn and I brought our knitting along, we got to knit before the show (and Jenn at intermission). I would have knitted at intermission, but I got to the row before I would close the heel, and I needed Jamie's foot for measurement!
I can't wait to have my day off tomorrow, I'm going to do some errands in the West Island (Return at Zellers, Costco, pick up more baby items from Tina - my sister's friend) and possibly go knitting at night with Montreal Knits (we'll see tomorrow how I'm feeling).