This morning I got woken up at 9:30 am by Videotron, who came to fix our internet. Our service has been intermitten since Friday, and we weren't sure why. Turns out that those damn squirrels have been eating our cable line and that is why the internet has been goofy. I was soooo happy that the guy came today (we were expecting him at 8am-11:30 am tomorrow morning, and Jamie was going to stay home from work tomorrow morning until our internet was fixed. (Cable TV was still working, but apparently cable can work bare, but the internet cable needs to be coated). DAMN THOSE SQUIRRELS. They really are no good! Useless animal!
After the guy left, (and waved his finger at us for splitting the cable to more than 1 TV - but he said people do it anyhow, but that if our CABLE TV signal is ever weak, to not call, because they'll investigate and probably back charge us for splitting to more than 1 tv (we're only paying for cable for 1 tv hook-up and it's being split to 3 tv's (bedroom, den & basement). But the guy didn't seem to care that our cable internet was being split between my PC and my laptop in the basement which Jamie uses - unless he just didn't notice the router... who knows..... so after the guy left, we went to Jamie's dad for breakfast and boy was it a feast! I wasn't that hungry at first, seeing as though dinner only came to us around 10:45 pm last night. (I never eat late! So this morning I was feeling blech!) Jamie's step-mom was in a cooking mood, so she baked and cooked up a storm. There were scrambled eggs, bagels, lox (mmm - they picked it up b/c they knew I loved it!) and apple cinnamon pancakes (and not apple flavored pancakes, there were actual CHUNKS of apple in the pancakes!) Everything was sooo delicious, and as soon as I started eating my appetite came. Jamie's dad also surprised me with this tub of raspberry sorbet that he picked up for me at the Market - I have been looking like crazy for it - and he found it! That was very nice of him.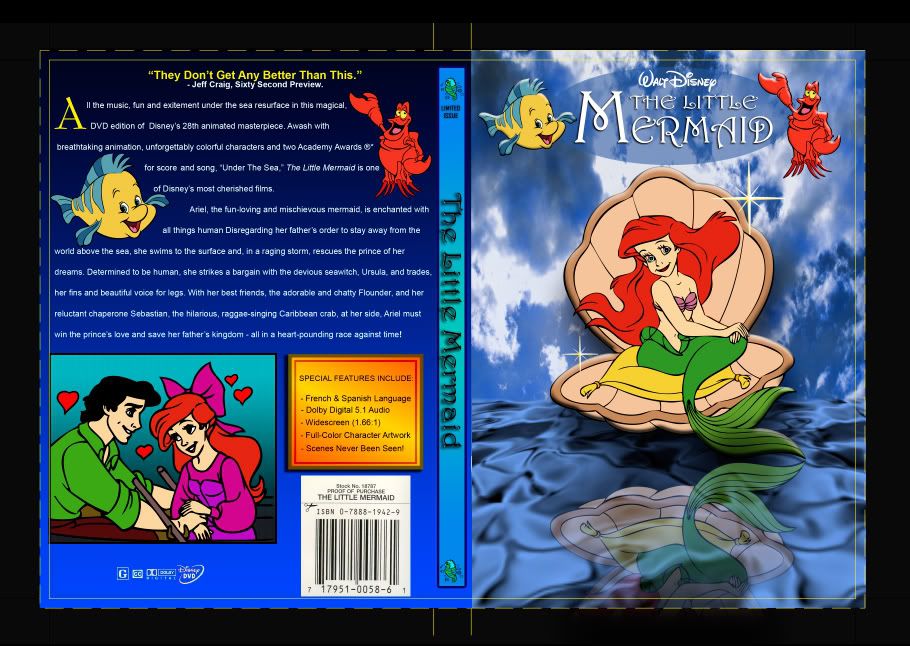 Click on DVD COVER to open a new window to view it larger with all the beautiful yummy details I've been working SOOOO hard on all week!
Got home, and finished my DVD cover, which is due tomorrow at 8 am. I think I did a great job on it (the freaking thing is 60MB!) There are soooooo many layers, and EVERYTHING is from scratch. I think I did a very good job on it - and I hope to get an excellent mark on it. So far my average in Photoshop is 85% overall, and I'm hoping that this assignment will bring up my mark. Also, thre is only 1 more assignment left in this class, and that is for me to re-create my own "i-pod" machine from scratch. My own brand of the "i-pod". Should be interesting. There is also no exam in this class, so I should be able to pull off a good mark. Also -I think for the DVD cover that I'm handing in tomorrow, I think that I covered a lot of the techniques that we've learned this semester in his class, so that should count. I made my own brush (the stars that you see glowing off Ariel and the clam shell on the cover) and used it. I also, applied layer styles to a lot of my layers, playing around with Bevel & Emboss, Outer Glow, Inner Glow, Gradient Styles, Colour Overlay, Satin Overlay, you name it.... I had fun with it. And all the characters were traced in Adobe Illustrator, and I think I did a mighty FINE job!

Been organizing my office to be the baby's room. If I don't start now, the baby's room will never be done by January, lol... There are some onesies hanging in the closet: (Yes, that's still my yarn in the background on the shelf! Gotta find another place for it!)

And finally moved my treasure chest of yarn from the little nook in the baby's future room, and placed the rocking chair there:


Doesn't it just look great where it is?? I love the little nook. Now, once we find out the sex of the baby in a month from now, (If the baby is not shy!) I can make blue or pink cushions for the rocking chair - for more comfort when breastfeeding.
Off shortly to my parents place to go swimming and for dinner, so I'll check ya later. (Gotta get out of this heat and into the pool!)