Today was our last day in Vegas. I'm now in the airport waiting for the plane home. We got to the airport quite early and I just finished watching a movie with Jamie. We watched the movie Saw II (SICK SICK Movie!) but I really enjoyed the way it was done, and recommend it to anyone who has the stomach for it!
Today, Jamie and I had lunch at the Wynn. We bought a 24 hour pass last night for the bus, and headed down to the Wynn first. There was a line up at the buffet - but that was okay - it was WELL worth the wait! I really admit that as the truth. What I didn't know is that it was only 150 points for 2 meals - I thought it was 150 points per meal. So basically I gambled money for nothing - losing it - (hoping to win of course) but thinking that I needed 300 points for 2 meals (worth about 50$ each!)
After lunch - I headed to the Fashion Show Mall while Jamie went to the Flamingo Casino & Hotel - our fave spot) to gamble in the poker room (Texas Hold'em). At the mall, I found a payless - as there was some shoes that I was eyeing back home, and really wanted.
So I bought them. I got 4 pairs of shoes for 40$ US - all using money that I won! So technically I got them for free! It was buy one get one half off at Payless.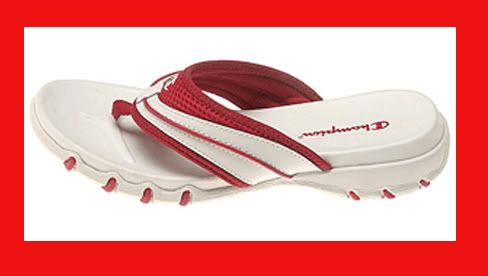 So I got the champion flip flops that I'd been eyeing in red (I had them a few years ago until this past year in black - but I accidently left them out on our back patio last winter and when I went to get them this spring - there was animal doodoo on them - so they went straight into the trash.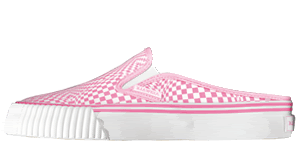 I also got these really cute pink shoes - I LOVE THEM!!!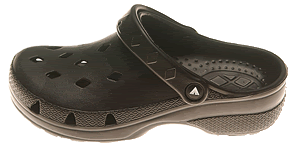 And fake crocs - which I was thinking about buying the originals - there was a stand in the Fashion Show Mall selling them - but decided for half the price - I liked the colour of the airwalk ones better than the original ones! I can't find the colour of mine online - but they're a GORGEOUS Hot Pink!
The last pair of sandals I got - have no picture online, I'll have to photograph them someday when I wear them - after I paint my toes. I do not plan on wearing them unless my toes are painted!
I went into a few other stores, picked up a few other items that I wanted or needed - got a few more souvenirs that I wanted, and needed, hoping I'm not forgetting anyone.
Here is one last look at the Strip - I'm going to surely miss it.
Oh - and this is the ONLY picutre of Jamie and I - zoomed in and cropped (from the image below it) of the two of us in Vegas. I'm lazy and kept forgetting to get people to take pictures of the two of us together (I have a bunch of each of us in Vegas alone though - but not together - silly me!)
But the one picutre of the two of us - it is cute nonetheless. This picture was taken about 10 minutes before we got back to the hotel to pick up our stuff to head to the airport. I guess the entire trip I was just paranoid that if I gave someone my camera to take a picture of the two of us, that they'd run off with it - call me a worry-wart - it's true, that's me.
The rest of the afternoon in Vegas, was fun. I met Jamie at the Flamingo - and put down 100$ at the poker room - at the end of that sitting - I walked out with my 100$ turning into 294$. Wow - what a fun time that was - and now, we've pretty much spent nothing on our trip in Vegas. The only thing we'll have to pay for is the hotel and the taxes on the plane tickets - which we took out of our honeymoon money, which was a present from Jamie's dad.

I've had a really good time in Vegas. I ate like a champ but got a good work out. I have nasty blisters on my feet from all the walking (three blisters on the bottom of my feet - and one on each heel). I thought my good nike shoes would serve me good - but they didn't. And Jamie didn't get a SINGLE blister from the NEW sneakers he bought before we left to Vegas - lucky dog!

Alright, see you back in Montreal - we should be boarding any minute now to fly back - over night to Toronto then to Montreal.