Today we moved my office. We got started on it as soon as we got up today. It was a lot of work. I emptied my shelves and my desk, and Jamie had two of his friends come over and help move the furniture. There wasn't much to move, which was good - but it was heavy. Jamie also totally re-organized our crawl space - which I think took him 3 hours, but everything in there is totally accessible (unlike how it was before when I tried organizing it!) and even my 3 huge tubs of yarn are completely accessible!
My old office is now empty:
It will be the baby's room!
I just need to vaccum and then use the shampooing vaccum cleaner to wash the carpets. I'll get to that this week at some point. Within the next few days, since on Thursday night, I'm going with Jamie's dad to order the crib.
When emptying out my book shelves (to bring them down stairs to my new office), I piled them up in the corner of the baby's room, and I didn't realize HOW many I actually owned. Holy crap! (Not all of them will be coming down to my office, I am going to be storing a lot of them, I don't need them all out on display anymore) but gosh - I own a lot of books!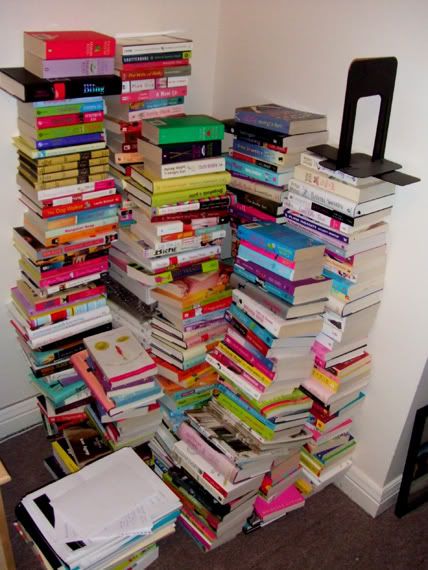 It's quite colorful, eh???
I love books. I love to read. I started reading again since school has let out - and I was on a role of reading books, but then the last couple of weeks, since being back - things have been really busy around here - and I have not set down to read. I think now that my office has been moved - once I organize all my things into my new office space, and the baby's furniture gets moved into the room - then I can make more time to do things for me! I still have a huge list of things to do before baby Sean appears into this world! 11 and a half weeks to go - and let me tell you - it's going to pass really fast - I can just sense it!
I totally forgot about Desperate Housewives tonight, I'll just download it tomorrow. I tried watching that new shoe Ugly Betty that is on Thursdays nights. I downloaded the first three episodes, which I watched this morning while cleaning out and emptying my office (while my computer was still hooked up) and it's alright. It's cute, but nothing great. Anyone watching it? What do you think? I don't know if I will continue watching it - but Thursday nights are a big TV night with Survivor on (which Jamie and I both watch together) and Grey's Anatomy as well as CSI.
Tomorrow I will get some knitting done, as I'm getting together with my cousin Jenn, and we're going to the LYS by her, to pick out some yarn for an elephant she wants to knit for baby Sean. (Jenn - don't let me spend any money on my visa at the LYS tomorrow - LOL - that could be BAD BAD BAD! - Unless it's for my SP9!) Oh - speaking of yarn - does anyone know if 18-19$ US is good for 1 skein of STR (Socks that Rock)? My SP loves STR and I started looking into getting her some, and all I'm finding is online for about 18-19$ and plus. I don't know if this is reasonable, or what.... and I doubt that I can get STR in a yarn shop by me... I don't think it's sold here? Anyone have any? Where did you get it?? Please let me in on some info.